Good travels ಗೆ
Good for travels
Good : GOOD STABILITY,SAFETY ON HIGHWAYS Bad : sluggish with AC on because of 54 bhp only It is about TATA INDICA DLG BSIII which I purchased in 2004 April. The car is really wonderful on highways with excellent stability ,vibration free inner environment and comfortable seating for 3 adults in the back. In a given situation 6 adults can sit with some adjustments ,though little uncomfortably. With AC switched on for 1300 km run to Shirdi at 42 degree temp it gave me an average of 19.5 km per litre diesel. What more you want for Rs.4,43,000 on road price with music system. I touched only up to 120 kmph some times and 110 kmph very often on high ways ; while driving you feel that the car is heavy and clutching on to the road with great grip. This is the reason Maruthi's and santros immediately give way to you when you give horn. Overtaking buses, trucks is not very difficult even with this low bhp of 53.5 ! You will run behind with same speed as bus or truck and when you get your way on small roads ,you downshift to 4th and overtake with ease and comfort. no problem. In city driving Indica is much easier because of high torque , I think. I never had performance problem except in peak summers when AC is on.But once the car is cooled by AC strangely Indica goes very well even in the city.Without AC however it is a real wonderful vehicle in city drive or in highway. I advice people to take Indica turbo with 62 bhp which is equalant to Palio in performance. But much better vehicle would be turbo DLG or DLX because they have 68 bhp , which shall be far better !
Write your Comment on ಟಾಟಾ ಇಂಡಿಕಾ ವಿ2
ಟಾಟಾ ಇಂಡಿಕಾ ev2 ಬಳಕೆದಾರರ ವಿಮರ್ಶೆಗಳು
ಆಧಾರಿತ
57 ಬಳಕೆದಾರರ ವಿಮರ್ಶೆಗಳು
ಎಲ್ಲಾ (57)
Mileage (28)
Performance (12)
Looks (29)
Comfort (33)
Engine (17)
Interior (15)
Power (15)
More ...
ಇತ್ತೀಚಿನ
ಸಹಾಯಕವಾಗಿದೆಯೆ
CRITICAL
I recently had a chance to drive my friend's Tata Indica V2 when I needed to go for a the long journey from Mumbai to Pune. I have to say that despite its average looks, ...ಮತ್ತಷ್ಟು ಓದು

The year 2011 was nearing its end when my family decided to purchase a car. The purchase was specifically important to me as I am the only one at home who drives. Also, I...ಮತ್ತಷ್ಟು ಓದು

Good : GOOD STABILITY,SAFETY ON HIGHWAYS Bad : sluggish with AC on because of 54 bhp only It is about TATA INDICA DLG BSIII which I purchased in 2004 April. The car is ...ಮತ್ತಷ್ಟು ಓದು

I have this eV2 CR4 LX purchased in Dec 11. During last 5 yrs and 1 month, it has been driven by just 60 kms per day for office up & down. It has good looking Exterio...ಮತ್ತಷ್ಟು ಓದು

I liked the indica as when i gone to purchase a car in tata showroom. I liked its fully mechanical controlled engine in which any kind of sensor is used in the engine. It...ಮತ್ತಷ್ಟು ಓದು

A century after its humble beginnings, Indica has become synonymous with performance and sophistication. Worn not only by internationally recognized athletes, but the fas...ಮತ್ತಷ್ಟು ಓದು

Very spacious. engine never trouble. If you find good service center then you will hardly get excess maintenance. but when u go to some authorized dealer for service they...ಮತ್ತಷ್ಟು ಓದು

Overall indica v2 is good car for people belonging to middle class. It is easily affordable.worth the price. long durabilty.petrol or disiel both are best. music system i...ಮತ್ತಷ್ಟು ಓದು

ಎಲ್ಲಾ ಇಂಡಿಕಾ ev2 ವಿರ್ಮಶೆಗಳು ವೀಕ್ಷಿಸಿ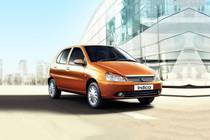 Rs. 3.29 ಲಕ್ಷ - 5.37 ಲಕ್ಷ*
ಈ ಕಾರಿನ ಮಾದರಿ ಅವಧಿ ಮುಗಿದಿದೆ
ಬಳಕೆದಾರರು ಕೂಡ ವೀಕ್ಷಿಸಿದ್ದಾರೆ