ಹುಂಡೈ ಇಲೈಟ್‌ I20 2017-2020 ಬಳಕೆದಾರರ ವಿಮರ್ಶೆಗಳು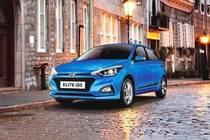 Rs.5.43 ಲಕ್ಷ - 9.41 ಲಕ್ಷ*
ಈ ಕಾರಿನ ಮಾದರಿ ಅವಧಿ ಮುಗಿದಿದೆ
ಹುಂಡೈ ಇಲೈಟ್‌ I20 2017-2020 ಬೆಲೆ/ದಾರ ಬಳಕೆದಾರ ವಿಮರ್ಶೆಗಳು
ಎಲ್ಲಾ (2104)
Mileage (498)
Performance (351)
Looks (544)
Comfort (674)
Engine (364)
Interior (342)
Power (300)
Price (221)
ಹೆಚ್ಚು ...
ಇತ್ತೀಚಿನ
ಸಹಾಯಕವಾಗಿದೆಯೆ
VERIFIED
CRITICAL
I love Hyundai cars, and I have also Hyundai Elite I20 Sportz plus. But according to the features of the car, the price is too high.

My favorite car, the best-looking car at this price point. This car build quality is very strong. Thanks, Hyundai

Premium car with an affordable price, very comfortable, safety-wise it's great, just call it a mini beast.

Overall a good package. Mine is a petrol Asta option. This is a car that suits those who are looking for maximum safety and features with average mileage and space. Service cost is not that expensive compared to competitors. Good for long drives and comfort is good. I have done 40K still it?s a quiet and comfortable drive. My main purpose to buy go...ಮತ್ತಷ್ಟು ಓದು

For a hatchback, this is a very expensive car to maintain. Over a period I've spent over 1.75 lacs just for periodic maintenance which equates to over 25% of the actual value of the original purchase price of the car. Features are good but will last around 5 yrs and then malfunction will occur. This in spite of the car being maintained at dealer po...ಮತ್ತಷ್ಟು ಓದು

It is one the best car in its segment, it's strong, very attractive, no noise inside, smooth, best mileage bit less pick up compared to Swift but its okay, driven 60 km so far that too in various types are including. It has been the most reliable vehicle in this price range.ಮತ್ತಷ್ಟು ಓದು

Average experience with good features under less price. But need to improve on getting more mileage...

Best luxury car at an affordable price. I really love my Elite I20. The car feels like family to me. It's fun to drive and has a lot of features at this price point. I own a petrol Asta and the engine feels really refined for me. The best feeling about the car is going for a long drive all alone. I love the design of the car. The pro...ಮತ್ತಷ್ಟು ಓದು

I own Hyundai Elite i20 dual-tone (fiery red & black). I was impressed with the interior, for thing money spend we expect projector headlamp with the sports dual-tone price difference is only 60 thousand with Asta model which has more features so, it is better to go for Asta. Mileage is the only factor depressing rest everything is fine.ಮತ್ತಷ್ಟು ಓದು

Buy i20 Magna plus petrol. Getting mileage of 14-15 in the city and around 18-20 on highways. Must say it's a perfect car at this price. Check once before you book any other car in this price range. It has high-class appeal and loads of necessary features. No wonder why i20 is so popular. Extremely happy owner..!ಮತ್ತಷ್ಟು ಓದು

Hi! I have personally reviewed the car and I found it best at its price especially it's sports dual-tone petrol variant which I have owned. The car is best for a middle-class person who wants a best at a low price and as far I know it doesn't cost too much for maintenance. The car is the top-selling car in the market and its all features are best s...ಮತ್ತಷ್ಟು ಓದು

The overall experience with thios car is awesome, the top model comes fully loaded with all the features and power pack performance. Engine performance is as excellent as it could be to its limit, the exterior looks and interior styling are also worth the price which it comes, and service is also not to high.ಮತ್ತಷ್ಟು ಓದು

My i20 always as the best car for comfort and price also I love my I20 performance is also best nice like always you like.

A very good car. Value for money. Features are amazing. Best car in this price range. The driving experience is good.

First of all the engine performance of the car is superb. It has six geared engine and trusts me while driving in the city you will be radial shifting it to the sixth gear. I possess the full option vehicle and it provides all the necessary features. It shows which door is not properly closed, in which most of the vehicles in this price range ...ಮತ್ತಷ್ಟು ಓದು

Overall, it is a nice car in all the ways. This car is the right car at this price and it is easily affordable for medium class people.

Very good i20, its best in class price. Performance is excellent superb. It is comfortable in the city and highways.

Initially, when I bought this car, I was not that much confidence in terms of its performance but when I drive it for the first time then I was proud of myself for my choice. In this price segment, there are lots of car in the Indian market, but none of them will beat it in terms of either safety, comfort, driving posture, stability, maintenan...ಮತ್ತಷ್ಟು ಓದು

I would like to review this car because one of my friends owns it. The comfort of the leg space, boot space and the interior, it looks very stylish and premium in this budget. A very few brands are offering this kind of comfort the overall price and Hyundai have been one of the best brands ever. I myself own one of the Hyun...ಮತ್ತಷ್ಟು ಓದು

It's an awesome car feels comfort in this car and in this price, good car to buy it. I am happy to use this car.

This car is comfortable and premium. The light quality inside is pretty good. This car also got many first in class features, quality levels are high. For this price range, there is no better premium hatch than this one. When compared to Baleno and Glanza. This car is much better in terms of comfort. I strongly recommend this car for you all.ಮತ್ತಷ್ಟು ಓದು

My Dream Car. Most trusted and comfortable car ever. Good in mileage and suitable for Indian roads especially. Ground clearance is good for Aal types of roads. The suspension is very smooth and no noise of the engine. For height persons most preferable car. Low Maintenance cost with affordable price in this segment of SUV. i20 it's an Icon of Hyund...ಮತ್ತಷ್ಟು ಓದು

Excellent performer. Mileage is a little bit low, but power and smoothness are incredible in this price tag.

I just love i20 because it gives a luxury experience in budget and he is so comfortable with me there is no other car will give you this much comfort and luxurious feel in this price the cheap and the supercool car is i20.ಮತ್ತಷ್ಟು ಓದು

My first car and still the best, I would say, it is the best hatchback in this price range, no car can ever replace my 2017 model with DRLs, such a great car.

It's comfortable while driving and everything is good in keeping mind the price of this vehicle. But only some issues like this car should come with inbuilt radio, Mp3 system, rear windows , it should have been powered ones. Rest everything is reasonable as the look of the car is great.ಮತ್ತಷ್ಟು ಓದು

Perfect for a middle-class family. Best luxury for a low price. Love the sensors and other cool features in this car. My favourite one is the feature which tells you to shift the gear when it's needed. The LED white headlights make the car look like a German and a real luxury car. This car fits both single and married. A very safe car for a 4 ...ಮತ್ತಷ್ಟು ಓದು

It's a total package, though it seems a little too much of a price to buy. The fit and finish are good, it is reliable, It's Hyundai so you don't have to worry about service and spare parts and retrofitting parts is not that difficult. If you are looking at using it mostly with family of 4, go for it. You wouldn't be disappointed. It sure...ಮತ್ತಷ್ಟು ಓದು

It is fantastic in its range. It is compact and best for a small family. Its interior is top of the line. The mileage is awesome. Exterior is good but it can be better. Hyundai work is always awesome. It comes with affordable price and with a bunch of features.ಮತ್ತಷ್ಟು ಓದು













Not Sure, Which car to buy?
Let us help you find the dream car

Are you Confused?
Ask anything & get answer ರಲ್ಲಿ {0}
ಜನಪ್ರಿಯ car insurance companies
ನವ ದೆಹಲಿ ರಲ್ಲಿ *ಎಕ್ಸ್ ಶೋ ರೂಂ ಬೆಲೆ
×
We need your ನಗರ to customize your experience