ಕಿಯಾ ಸೆಲ್ಟೋಸ್ ಬಳಕೆದಾರರ ವಿಮರ್ಶೆಗಳು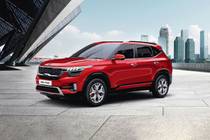 Rs. 9.89 - 17.34 ಲಕ್ಷ*
*ಹಳೆಯ ಶೋರೂಮ್ ಬೆಲೆ
ನವ ದೆಹಲಿ
ಕಿಯಾ ಸೆಲ್ಟೋಸ್ looks ಬಳಕೆದಾರ ವಿಮರ್ಶೆಗಳು
All (1941)
Mileage (231)
Performance (219)
Looks (624)
Comfort (451)
Engine (261)
Interior (324)
Power (178)
ಹೆಚ್ಚು ...
ಇತ್ತೀಚಿನ
ಸಹಾಯಕವಾಗಿದೆಯೆ
VERIFIED
CRITICAL
Love this car a lot and amazed by its suspension setup and comfort and styling compared to Creta, Looking for a car at 20L I suggest you this car.

I have brought this car in this week only, and it was a very tough decision between Creta and Kia I choose this car especially because of looks and features, Creta looks is not so attractive that's why I chose this car, and now after buying it, I have no regrets I love the comfort and pickup, The average is normal I was expecting it to low, but it ...ಮತ್ತಷ್ಟು ಓದು

Nice car, stylish looks, poor mileage, lag in lower rpm, ground clearance can be an area of improvement, and the suspension is not up to the mark.

It is a good looking car and is spacious also have a big boot. But the 1.5 engine does not give fun to drive factor. It looks more expensive than the price so it is the best showoff vehicle. ಮತ್ತಷ್ಟು ಓದು

It was tough to decide b/w Seltos and Creta 2020. As per my understanding, Seltos has an edge over Creta 2020 in terms of exterior aesthetics and a sense of interior style. Seltos gives more of a proper SUV looking exterior while Creta looks a bit gimmicky. Couldn't distinguish in drive quality and both machines are mechanically identical. UVO conn...ಮತ್ತಷ್ಟು ಓದು

Supercar I see a new model in India all people looking new styling variety of cars but In this generation am also interested, Kia.

All the way from Comfort to Mileage its a Macho machine. Feature loaded and very Exciting to drive. I got this machine in October-2019 and till yet I am enjoying my drive every time. I start this machine. Never disappointed. Never felt wrong for my decision on this Buy. If you are looking for the same excitement kindly go for an Instant test drive....ಮತ್ತಷ್ಟು ಓದು

Time to upgrade in front of Creta, because the new Creta going to be very fast in sales. now Seltos look down in front of Creta.

Kia Seltos HTX has brilliant mileage. Average of 15 kmpl with 50 percentage traffic. Looks are best in any segment. HTX is the most value for the money. It has a very good built quality. Power is reasonable. Service is good. ಮತ್ತಷ್ಟು ಓದು

Kia Seltos is a very safe SUV with great mileage. IVT htx gives an average of 15 kmpl with 50 percent in traffic. The looks are the best in any SUV in any segment. New HTX has a sunroof too. ಮತ್ತಷ್ಟು ಓದು

Driven smoothly on all types of terrain experienced it on a journey to Uttrakhand. It was so comfortable to drive has parallel both performance and looks. The powerful AC cools down very rapidly and also the other features like Voice Command and Navigation System helped me a lot on the way and I am very happy that I chose Seltos. ಮತ್ತಷ್ಟು ಓದು

Kia enters the Indian market with Seltos which has great looks to mesmerize anyone also has numbers of features like Smart Connectivity, Large Screen Infotainment System and the interior that gives you perfect feeling of luxury as I own GTX DCT variant, but at the same, I think It should also offer Panoramic Sunroof as per its pricing also the main...ಮತ್ತಷ್ಟು ಓದು

The Seltos looks very premium both from inside and outside. It is fun to drive and it may not be very great for chauffeur-driven, because it's built for car enthusiasts.

I am the proud owner of the GT 1.4 Manual. Be it, when you want to drive economical(17kmpl), or when want to zoom through the highway(0-100

Creta is the best from Kia Seltos. It doesn't look like a real SUV and it can't compare with Creta.

Very good SUV best car from all the best cars Kia Seltos and nice car and it is so beautiful and looks good with amazing mileage.

I Have Kia Seltos HTX petrol version and it has very good looks and stylish design. But it lacks power when we accelerate at highway or at the time of overtaking. This power lacking in petrol version is truly a bad thing I got in this 15 lakh SUV. Otherwise, everything is good in relation to features and design. But if I have to go at 120 speed and...ಮತ್ತಷ್ಟು ಓದು

1. A leader in the segment. 2. Stunning Look. 3. Comfortable & Spacious 4. Reliable. 5. Great Mileage. 6. Feature Loaded. 7. Smooth Riding. 8. Superb interior. 9. Great Driving Experience. 10. Perfect SUV. ಮತ್ತಷ್ಟು ಓದು

It's the best car in automatic transmission and comfortable with the best price. The best looks. All the model has the best price between 9.8 and 17.8 Lacs.

Best car ever. Low maintanance cost. Good in mileage. Best colour combinations available. Best in looking.

I have been living with this car for the past 6 months and I genuinely love the experience. I have the GTX Plus AT variant as automatic suits my needs better. There's a lot to really like about this car, the look and feel just leaves me awed for a moment every time I enter my car. I love all the features, the infotainment system, the screen, the cl...ಮತ್ತಷ್ಟು ಓದು

Performance is excellent and pickup is excellent Safety is excellent features are awesome. Comfort is awesome legroom and headspace is fabulous. The paint quality is awesome and looks are awesome and sporty. This car is meant for experienced people and the people who want acceleration. ಮತ್ತಷ್ಟು ಓದು

It's an amazing car with a stylish look. We get a feature-loaded car with great dimensions. I have HTX IVT G variant grey colour. There is only one problem that while overtaking any other vehicle it should have more power. Maybe, this is my first experience of driving an automatic car. Rest all is great with this car as KIA is under HYUNDAI and hav...ಮತ್ತಷ್ಟು ಓದು

Good looking and styles car. Mileage is also good and it is super.

 Its the best in its segment. The engine power is sufficient and over comfort and quality levels are excellent. If you want a Kia Seltos with all the features and looks with a good mileage you should definitely opt for the HTX trim. In terms of looks, the HTX model has most of the features that are present in the GT line. ಮತ್ತಷ್ಟು ಓದು

The car is value for money car. It gives a tough competition to Hyundai Creta. Look and features are good enough to its competitors in this segment.

The car has excellent looks and features are superb and ride quality and built quality is awesome.

4.7 kmpl mileage is a problem. Kia safety and modify look makes in a nice car of new generation. 

Looks supercools and the comfort level and performance is too high, except the mileage, everything is good at this price.













Not Sure, Which car to buy?
Let us help you find the dream car
ಸೆಲ್ಟೋಸ್ ಪರ್ಯಾಯಗಳು ನಲ್ಲಿ ಬಳಕೆದಾರ ವಿಮರ್ಶೆಗಳು
*ನವ ದೆಹಲಿ ರಲ್ಲಿ ಎಕ್ಸ್ ಶೋ ರೂಂ ಬೆಲೆ
ಬಳಕೆದಾರರನ್ನು ಸಹ ವೀಕ್ಷಿಸಲಾಗಿದೆ

Are you Confused?
Ask anything & get answer ರಲ್ಲಿ {0}
ಜನಪ್ರಿಯ car insurance companies