ಎಂಜಿ astor ಬಳಕೆದಾರರ ವಿಮರ್ಶೆಗಳು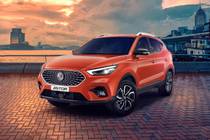 98 ವಿರ್ಮಶೆಗಳು
Rs.10.28 - 18.13 ಲಕ್ಷ *
*ಹಳೆಯ ಶೋರೂಮ್ ಬೆಲೆ ನವ ದೆಹಲಿ
ಎಂಜಿ astor ಬಳಕೆದಾರರ ವಿಮರ್ಶೆಗಳು
ಎಲ್ಲಾ (98)
Mileage (22)
Performance (15)
Looks (43)
Comfort (23)
Engine (10)
Interior (19)
Power (5)
ಹೆಚ್ಚು ...
ಇತ್ತೀಚಿನ
ಸಹಾಯಕವಾಗಿದೆಯೆ
CRITICAL
It's a good car to drive with a stylish look and comfort. It is easier to drive in the city with this and the highway performance definitely needs to improve.

The design of this car is very appealing, and the colour especially turns heads. It is an SUV but gives me a feeling of a compact car being a tall person. I am a person who likes the car to be at a higher altitude, so this looks perfect. As a fan of music, the speakers are rocking, and perfect to listen to, if you go on long drives.ಮತ್ತಷ್ಟು ಓದು

One of the best smart cars in this price range. It is great for driving in urban areas. The maintenance of the vehicle is pretty low, and the performance is amazing.ಮತ್ತಷ್ಟು ಓದು

I'm driving Astor Sharp CVT for the last six months, overall love the exterior & interior of the car. In this segment, this is the best interior car & outside looks also fresh & very appealing. Here are the Pros & Cons: Pros: 1. As mentioned above the interior & exterior look especially the interior. 2. It gives a smooth...ಮತ್ತಷ್ಟು ಓದು

Very nice model very good features and look Very good in SUV and very good performance and very high safety.

Nice car as it is sleek and stylish. The features given are actual value for money. Could have added wireless charging.

A comfortable car with safety and great features. The mileage is slightly low but I am happy with this car.

A very good and excellent car full of specifications and good technology. And at the best price with all the good features.

I have been using the MG Astor Shavvy variant for 2months. When in the city its smart features and add-ons like smart bot makes my drive great. A simple upgrade on AI bot learning and additional features like ventilated seats might have boosted my driving much simpler. An important upgrade over the 360 camera will be much appreciated.ಮತ್ತಷ್ಟು ಓದು

Really amazing car with great infotainment features, truly and new generation vehicle, comfort is amazing and the looks of the car are just fabulous. The maintenance of the car isn't a lot also the mileage is good. Perfect Suv.ಮತ್ತಷ್ಟು ಓದು

It's good to see the look and design and super technology used. I like the car very much! The Astor Robot is very good and the 360° view of the car on the touch screen is very good! Getting to the screen it's very wide. It will be best if I would buy this car.ಮತ್ತಷ್ಟು ಓದು

It is a great car in terms of comfort and features. The vehicle feels luxurious and safe. The Interior of the vehicle is very comfortable for long drives.

Amazing car, amazing function, gorgeous look, beautiful interior design, all over the best car for this price.

One of the best smart cars in this price range, great for driving in urban areas. The maintenance of the vehicle is pretty low and performance is amazing.

Astor is a very good car. Comfort and safety are excellent. It is the car for relaxed driving. ADAS features are awesome. Mileage is around 9-12 km.

To be honest, MG Astor is an excellent SUV. The design, performance, and style are no compromise at all. At last the best choice.

It's the best car on budget with a luxury interior as well as a dynamic exterior look, and lighting. Good competitive for Hyundai Creta, Kia Seltos. The Interior ambiance is too good when compared to luxury cars like Audi, Range Rover, and Land Rover.ಮತ್ತಷ್ಟು ಓದು

Very nice car, engine power is very good and safety rating is also good. Its look very nice and charming this car absolutely nice.

The car gives 6.5kmpl mileage in the city and 11.5kmpl on the highway. It also drags on an uphill drive with the air-conditioner throwing relatively hotter air while going uphill.ಮತ್ತಷ್ಟು ಓದು

It's a very stylish car, comes with amazing features and it is comfortable while driving. Good for the long drives and looks amazing.

It is one of the best cars in this mid-sized SUV segment. I took MG Astor Turbo 220 6AT, the performance is super. Mileage: City: 8-12 kmpl, highway:16-20 kmpl. When a turbo engine is added with Torque Converter Transmission, the fuel efficiency is more on highway, infact even better than the manual transmission. This is the best combinat...ಮತ್ತಷ್ಟು ಓದು

Overall very comfortable car. I love MG Astor. The seats are comfortable, the sound is very good. Also sunroof is to good and my kids love sunroof. Sound system is amazing. The touchscreen is easy to operate AI is very good, voice command very trustworthy.ಮತ್ತಷ್ಟು ಓದು

Stylish looks with top-class comfort best driving experience ever from the map give us clear route and accurate time.

Really it's an amazing feature and comfort to ride .its colour and style are very good the logo of MG looks awesome.

The car is very magnificent. The performance of this car is amazing as well. Its looks are good.

Superb SUV car. The mind-blowing experience in this budget base model is superb compared to Hyundai Creta, Kia Seltos. Good car, mileage are good, pick-up really nice and cabin sitting really compatible with LED DRL projecter head lamp with touch screen automatic climate control AC in this segment. ಮತ್ತಷ್ಟು ಓದು

It is so good in mileage and speed of the car. The features of this car are really very good.

I've been driving Astor for 3 months. Stylish car with luxurious interiors. It's been an extremely smooth driving experience with segment-first and best features. Best value for money car at this price. Mileage could have been better. ಮತ್ತಷ್ಟು ಓದು

Worst car in terms of mileage. I get 5.5 kmpl in the city in automatic petrol. The pick up is also too slow and engine makes noise when more acceleration is given.













Not Sure, Which car to buy?
Let us help you find the dream car
ಪರಿಗಣಿಸಲು ಹೆಚ್ಚಿನ ಕಾರು ಆಯ್ಕೆಗಳು
astor ಪರ್ಯಾಯಗಳು ನಲ್ಲಿ ಬಳಕೆದಾರ ವಿಮರ್ಶೆಗಳು

Are you Confused?
Ask anything & get answer ರಲ್ಲಿ {0}
ಜನಪ್ರಿಯ car insurance companies
ನವ ದೆಹಲಿ ರಲ್ಲಿ *ಎಕ್ಸ್ ಶೋ ರೂಂ ಬೆಲೆ
×
We need your ನಗರ to customize your experience