ಹೋಂಡಾ ಡವೋಆರ್‌-ವಿ ಬಳಕೆದಾರರ ವಿಮರ್ಶೆಗಳು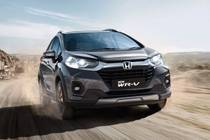 34 ವಿರ್ಮಶೆಗಳು
Rs. 8.55 - 11.05 ಲಕ್ಷ*
*ಹಳೆಯ ಶೋರೂಮ್ ಬೆಲೆ ನವ ದೆಹಲಿ
ಹೋಂಡಾ ಡವೋಆರ್‌-ವಿ ಬಳಕೆದಾರರ ವಿಮರ್ಶೆಗಳು
ಎಲ್ಲಾ (34)
Mileage (14)
Performance (8)
Looks (5)
Comfort (8)
Engine (10)
Interior (2)
Power (1)
ಹೆಚ್ಚು ...
ಇತ್ತೀಚಿನ
ಸಹಾಯಕವಾಗಿದೆಯೆ
CRITICAL
Everything is Honda-ish, top-class engine and build quality. Mileage is excellent (23 overall) but the service costs are a bit more compared to other providers. Space is good, you can play a cricket game at the backside. Overall, WRV is feature-loaded and definitely a family car. ಮತ್ತಷ್ಟು ಓದು

But, the music system was a dampener. It's not working. Honda asked for 60k for replacement. I didn't think that would be value for money. So, I bought an ANDROID music system at 20K from a local shop. Rest is fine. Doing a lot of long-distance traveling and happy with it. ಮತ್ತಷ್ಟು ಓದು

Superb looks, good build quality and the interior look like Audi. It is a superb car and the sound is very smooth.

Hello. I have driven approx 22000 km. Purchased this 2 years back. Am having a great experience. Everything so far is very good. It very stable and smooth car especially on the highway. Three challenges: First mileage is less. In highway 16 n in city 11-12. Second- the roof height is very less. Your head almost touches the roof. Three - no apple ca...ಮತ್ತಷ್ಟು ಓದು

The music system stopped working in warranty and they don't have a music system for replacement. This is a serious issue as they are delivering faulty products and not giving a proper warranty for the product. Now after spending 12lakh you have to drive the car without a music system. The diesel engine is so noisy that you can't drive the car witho...ಮತ್ತಷ್ಟು ಓದು

The back seats are not comfortable, and the music system is playing bluetooth 4.5-second delay.

Very bad after-sales service by Honda & car performance is very poor. Touch Screen was not working properly within 1 month and the service centre was not ready to replace it. When it finally stopped working they are asking to wait for 6 months time to get it replaced. ಮತ್ತಷ್ಟು ಓದು

I bought a Diesel top end. Delivers a mileage of 24kmpl on NH @80-90 kmph speed. Absence of features like rear A/C and the rear headrest is disappointing.

Its a value for money car. Pricing can be a little low. Styling and comfort are just exceptional.

Media player is worst than third class mobile phone. You cannot load any app and the inbuilt app does not work properly for navigation. No service center is having good knowledge about this media player. ಮತ್ತಷ್ಟು ಓದು

Best in the segment. Into my 3rd year with this car and getting a highway mileage around 26kmpl(on 700km trip - full tank gave 850km) on a leisure highway drive. Absolutely loving it. Drive also feels easy and relaxed. ಮತ್ತಷ್ಟು ಓದು

It's a feature-loaded car, sab kuch mast hai for the given price range. I bought a VX petrol. Actual mileage in Delhi NCR city 13kmpl. The touchpad is also upgraded, they are providing digital version. So android auto and apple car play is working absolutely fine. Baki cruise control hai, Touch screen, AC, Height adjust and many more features. ಮತ್ತಷ್ಟು ಓದು

WRV is a good car considering the cost and specification. Mileage is not very high like Maruti Cars.

The service within the warranty period is horrible and pathetic or is there's any worst word than that. Within the warranty period, our music system touch screen stopped working. It has been more than 2 months since we registered our complaint against the music system to get replaced. Since then we have been going to the showroom again and again an...ಮತ್ತಷ್ಟು ಓದು

My WRV VX petrol is far better to compare to other compact SUVs only drawback is no low-end torque and less mileage in the petrol variant if you want better performance go for the diesel variant. ಮತ್ತಷ್ಟು ಓದು

Honda Wrv warranty. Safety & fuel efficiency are great along with the low maintenance cost. Driving comfort is superb. Fuel efficiency is:28 kmpl. I love this car.

The Honda WR-V is a very spacious car and its style is amazing and diesel mileage is very awesome even I am using now an exclusive edition it is very smooth overall it's a good package. ಮತ್ತಷ್ಟು ಓದು

Best car in this price point. The features are really good. I loved the look of this car and the sunroof is also very good.

Most practical car in its segment. Loaded with necessary features. Spacious and comfortable. The average is good. The diesel engine is Pocket friendly. Less maintenance.

I have WRV VX PETROL (2017 model) 10k/ 3yrs completed. It has decent performance and mileage. But honda needs to improve rear seats( no rear adjustable headrest, no armrest, no 60:40 split rear seats, no rear ac vents, no rear charging port). Looking at rivals honda must provide the option of the turbo engine and automatic. Otherwise, the car is go...ಮತ್ತಷ್ಟು ಓದು

Don't judge this car based on review videos(I did the same first and when I took the test drive, it changed my mind). Take a test drive and feel the engine performance and the control you have in this car. I am very happy with the car's performance, mileage, spacing, and look. Every penny is worth this car. If you are thinking about the long term. ...ಮತ್ತಷ್ಟು ಓದು

I have bought this car last month and till now I'm feeling great about this car specifically. When it comes to comfort and features.

Honda's WR-v is a very good car. If it had a 1500CC engine, then this car had no match in the petrol version.

Please, don't buy Honda products due to a low-quality music system. I have 3 years of a bad experience with connectivity and with a touch screen. Very bad Bluetooth connectivity. Hang most of the time. ಮತ್ತಷ್ಟು ಓದು

I recently got a BS6 version of this car and it's fantastic. Petrol is the engine is refined and gives good mileage. More comfortable for driver and passenger. Loving this car. ಮತ್ತಷ್ಟು ಓದು

I have a Honda WR-V in the petrol engine and happy with its overall performance. This car has many features that improve comfortability and give me a good driving experience. Honda WR-V has a spacious cabin that makes my drive much easier. Also, this car comes with good safety features. Overall this is a good car by Honda. I will this car recommend...ಮತ್ತಷ್ಟು ಓದು

I am using Honda WR-V Car and I am completely satisfied with its performance. This car comes with a powerful engine and its easy to driven. This is a nice SUV with 5 people seating capacity. It has many features like Automatic Climate Control, Accessory Power Outlet, Engine Start/Stop Button, Keyless Entry, etc that make it more comfortable for me....ಮತ್ತಷ್ಟು ಓದು

The after-sales service of Honda is very bad and costly at the same time, spare parts are not available at  Junagadh, Rajkot, Bhavnagar. So I think choosing a Honda car is totally a waste of money. ಮತ್ತಷ್ಟು ಓದು

Nice spacious car with a spacious boot. Perfect Family car for city as well as long trips. Mileage is cool but This car offers a spacious interior and boot space too. A perfect family car which fits for city drive and long drives as well. The fuel economy is cool, but it would be great to have auto transmission and better suspensions. ಮತ್ತಷ್ಟು ಓದು













Not Sure, Which car to buy?
Let us help you find the dream car
ಡವೋಆರ್‌-ವಿ ಪರ್ಯಾಯಗಳು ನಲ್ಲಿ ಬಳಕೆದಾರ ವಿಮರ್ಶೆಗಳು
*ನವ ದೆಹಲಿ ರಲ್ಲಿ ಎಕ್ಸ್ ಶೋ ರೂಂ ಬೆಲೆ

Are you Confused?
Ask anything & get answer ರಲ್ಲಿ {0}
ಟ್ರೆಂಡಿಂಗ್ ಹೋಂಡಾ ಕಾರುಗಳು
ಹೆಆರ್‌-ವಿ

Rs.14.00 ಲಕ್ಷ*

ನಿರೀಕ್ಷಿತ ಲಾಂಚ್‌: ಮಾರ್ಚ್‌ 24, 2022

ಬ್ರಿಯೋ 2020

Rs.5.00 ಲಕ್ಷ*

ನಿರೀಕ್ಷಿತ ಲಾಂಚ್‌: ಜೂನ್ 06, 2021
ಜನಪ್ರಿಯ car insurance companies